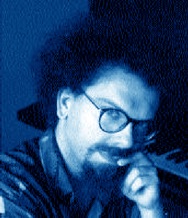 Jean-Baptiste Barrière was born in Paris, France in 1958. He studied music, history of art, philosophy and mathematical logic. Parallel to composing, he made a career at Ircam/Centre Georges Pompidou in Paris, beginning in January 1981 as researcher with the projects Chant (synthesis of vocal singing with computer), and Formes (control of synthesis and composition with computer). From 1984 to 1987, he directed Ircam's Department of Musical Research, from October 1989 that of Education, and from 1993 to 1997 he headed the production department. 1997-98, he taught computer music composition at the Sibelius Academy in Helsinki. In September 1998, he left Ircam to concentrate on composing.

Since winning the Prix de la Musique Numérique of the Concours International de Musique Electro-acoustique of Bourges in 1983 with his computer piece Chréode (published on Wergo), Barrière went on to compose the music of several multimedia shows, including (with Kaija Saariaho) Collisions, directed by Pierre Friloux and Françoise Gedanken and premiered in 1984 at the Festival Ars Electronica in Linz. Barrière also realized the music for an image synthesis installation made by Pierre Friloux for the International Festival of New York, which was exhibited during the summer 1988 inside a pillar of the Brooklyn bridge and then later at the Festival de Montréal.

In 1995, he created music to Le messager of Catherine Ikam and Louis Fléri, a virtual reality piece presented in the exhibition Cité-Ciné 2, at La Colline de La Défense. There followed in 1996 his own installation Alex, presented in the context of the opening of Ircam's new facilities.

In 1997, Barrière directed the realization of the soundtrack for the exhibition Flying over water by Peter Greenaway, shown in Barcelona. He then composed the music of 100 Objects to Represent the World, a show by Peter Greenaway presented in Salzburg, of which a CD was released by Ircam.

Since 1996, Barrière has composed the music of most virtual reality pieces of Maurice Benayoun : Worldskin in 1997 which won the Ars Electronica Interactive Art Prize in 1998, the Tunnel Paris-New Delhi in 1998 presented in Cité des Sciences in Paris and in India, Crossing Talks in 1999 commissioned and presented by the InterCommunication Center of NTT in Tokyo, Art Impact in 2000 premiered in the Pompidou Center in Paris and commissioned by oraos.com, Labylogue, also in 2000, together with Jean-Pierre Balpe for the automatic generation of the text, commissioned and presented by the Mission 2000 for the exhibition Tu parles, le Français dans tous ses états in Brussels, Dakkar and Lyon; SoSoSo, commission of the ZKM of Karlsruhe for the exhibition Future Cinema in November 2002, then presented in the Gaîté Lyrique in Paris in March 2003; and Cosmopolis, which started in Shanghai in April 2005 and toured all over China the same year.

He also created the musical environment of Planet of Visions, a pavilion conceived by François Schuitten for the World Expo in Hanover (from June to October 2000). In November 2001, he created the sound environement for the exhibition L'homme transformé, conceived by Jöel de Rosnay at the Cité des Sciences et de l'Industrie in Paris.

He was responsible for the musical part of the Parcours multimédia de l'Abbaye de Fontevraud, which opened during the fall 2001 for the 900th anniversary celebration and which included several musical installations.

He conceived and directed the realization of Prisma, the musical universe of Kaija Saariaho, the CD-rom that won the Grand Prix Multimédia Charles Cros 2000.

With Image Auditive, a multimedia studio he founded in 1997, Barrière began to create his own multimedia projects, such as Autoportrait in motion, a sound and image interactive installation, commissioned by the Contemporary Museum of Zurich, premiered in January 1998 and presented in various museums around Europe. This piece is part of Reality Checks, a cycle that he is currently developing with Pierre-Jean Bouyer for the realization of images, consisting of installations and performance pieces involving a solo instrumentalist and live transformations of sound and image. The first two works of this cycle are Cellitude for cello (available on a enhanced CD—both CD-audio and CD-rom—from www.petals.org), and Time Dusts for percussions, a commission from GRM/INA which was premiered in April 2001 in the Grand Auditorium of Maison de Radio-France.

There followed Chasing wind, the well of vanities, a new type of visual and musical installation, which ran from June to December 2002 at the Abbaye of Maubuisson.

With choreographer Jean-Claude Gallotta, he made Les Fantômes du temps, a multimedia show for 11 dancers, 1 percussionist, and live transformation of image and sound that was premiered in Grenoble in November 2002. May 2003 saw the premiere of Violance at La Criée in Marseilles. Commissioned by the Festival Les Musiques of the GMEM, this multimedia show was based on Le Massacre des innocents by Maurice Maeterlinck (Maeterlinck's work itself inspired by the painting of Bruegel), and written for violin and child's voice with live transformation of image and sound.

He was also commissioned by the Berlin Festspiele to create a visual part for a concert version of L'Amour de loin of Kaija Saariaho, which was then played in Berlin and Théâtre du Châtelet in March 2006 by the Deutsches Symphonie Orchester Berlin & Rundfunkchor Berlin, conducted by Kent Nagano. In Marseilles in May of 2007 he presented Two Dreams of Maeterlinck after Bruegel, a new multimedia show based on texts by Maeterlinck (again, the text themselves based on paintings by Bruegel).

Also in that year, commissioned by the Orchestre Symphonique de Montréal, he realized the visual part for  the concert version of Ravel's L'Enfant et les Sortilèges, conducted by Kent Nagano and premiered at the Palais des Arts in September 2007. A year later followed the visual part to Messiaen's opera, Saint François d'Assise. This was premiered in October 2008 at the Salle Pleyel in Paris with the Orchestre Philharmonique of Radio France conducted by Myung Whun Chung, and then presented in December in the Palais des Arts of Montréal by the Orchestre Symphonique de Montréal conducted by Kent Nagano. This latter performance won the 24th Grand Prix du Conseil des arts de Montréal.

He has realized a visual creation for Alban Berg's Wozzeck, premiered by Esa-Pekka Salonen with the Philharmonia Orchestra in October 2009 at the Royal Festival Hall in London, and a multimedia show around vocal works of Kaija Saariaho with the ensemble Solistes XXI conducted by Rachid Safir in January 2010 at the Amphithéâtre of Opéra-Bastille, and on tour afterwards, including at Carnegie Hall in April 2013; still around works of Kaija Saariaho, he created visual parts for her oratorio La Passion de Simone, with Esa-Pekka Salonen conducting the Finnish Radio Symphony Orchestra in Helsinki in October 2012, and for her ballet Maa, choreographed by Luca Veggetti at the Cité de la Musique of Paris in April 2013. He was Visiting Professor at Columbia University in 2011-2012, and returned there as Composer in Residence of the Computer Music Center for 2013-2014.

A Portrait-concert presenting some of his works covering more than thirty years, was given at Miller Theater in New York at the end of March 2014, including the Premieres of Ekstasis, a new piece for soprano and electronics on texts by Simone Weil and Louise Michel, and of The Garden of Dreams, a new musical and visual interactive installation presented in parallel in Musées Gadagne in Lyon (as part of the Biennale Musiques en Scènes) and at the Maison française of Columbia University.

Latest major performances include video design for The Tempest Songbook a multimedia show on the music of Saariaho and Purcell, at the Metropolitan Museum of New York in February 2015, with the Martha Graham Dance Company choreographed by Luca Veggetti, and The Gotham Chamber Opera; Whispering Bayou, a large interactive installation conceived and realized with George Lewis and Carrol Blue at the Contemporary Art Museum of Houston during the Summer of 2015; portraits concerts at Schœnberg Hall in Los Angeles and Hertz Hall in Berkeley, as parts of a California tour during the Fall 2015; in the same period, he was the first grantee of the David Wessel 's Music & Science Prize of the Center for New Music & Audio Technologies / Music Department of the University of California Berkeley.

Recent projects include the Premiere by Jennifer Koh of Palimpsest Capriccio for violin and electronics at National Sawdust (New York) in May 2016; the video design for a portrait concert dedicated to Saariaho's music with the New York Philharmonic conducted by Esa-Pekka Salonen at the Armory in New York during October 2016; the realization of Sensation/Eternity, a multimedia piece for the C4 Choir Ensemble, on two poems by Arthur Rimbaud, premiered in November 2016 in New York.

He has also started, during the Fall 2016, an artist residency at the New School in New York to realize a large interdisciplinary project involving several departments of this university, The Art of Change.

He is currently working on the multimedia show The 38th Parallel, with violinist Jennifer Koh, flutist Camilla Hoitenga, and baritone Davone Tines.