The Art of Change is an interactive, participative, generative, visual and musical installation about what needs to be changed in the world.

It includes historical video documents as well as new videos statements and propositions recorded on a special website, 'theartofchangeproject.org', where people from all around the world are invited to propose how things should be changed.

These videos can be explored interactively by visitors of the installation, which was first presented at the University Center of the New School in New York, during Fall 2017, in a laboratory situation where the visitors could interact with the authors.

While browsing through these materials, visitors gestures control also live transformations of sounds and images, making an artistic experience from this reflexive exploration.

In parallel, these videos are available at all times on the web site, for the ones interested to continue the reflection.

This multidisciplinary project about the future of art and society, is meant to encourage speculative and prospective thinking in all domains, building new narratives of change, praising to be constructive while putting everybody of good will to contribute.

Exhibition

The New School University Center, 63 Fifth Avenue, New York

October 25th to November 3, 2017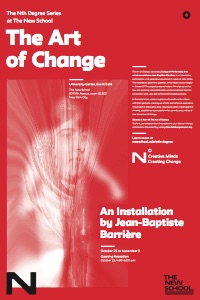 Conception, composition, computer music and graphics: Jean-Baptiste Barrière

Computer music and graphics realization : Thomas Goepfer

Documentation research and videos preparation: Isabelle Barrière

Additional image realization: François Galard

Realization of theartofchangeproject.org website: Nicolas Feste